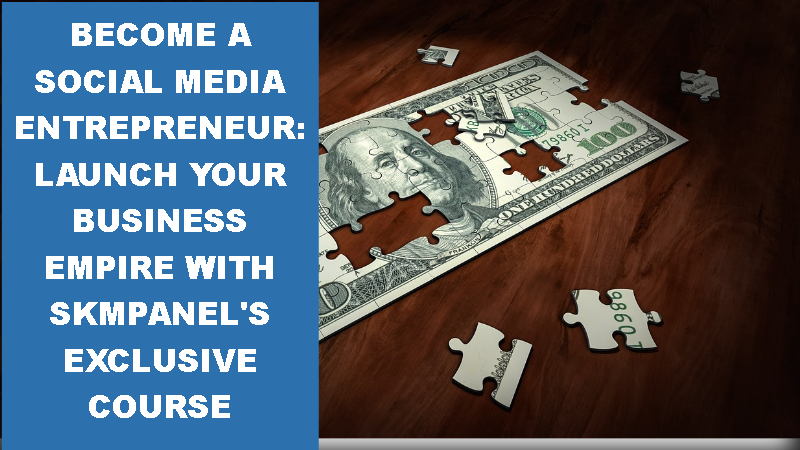 Become a Social Media Entrepreneur: Launch Your Business Empire with SKMPanel's Exclusive Course
Build a Profitable Social Media Business: SKMPanel's Expert Course for Empowerment
Empower Others for Social Media Success and Unlock Financial Prosperity
Are you ready to channel your passion for social media into a thriving business venture? Look no further than SKMPanel's exclusive course, meticulously crafted to guide you in establishing a successful enterprise that empowers individuals to conquer the digital realm. With 7 years of field-tested wisdom and a track record of driving results, you'll not only transform lives but also scale your earnings to new heights.
Why Opt for SKMPanel's Business Empowerment Course
In an era dominated by digital connectivity, the demand for social media guidance is insatiable. SKMPanel's course is no ordinary offering; it's a blueprint for creating a business that delivers real impact while reaping substantial financial rewards.
Leveraging 7 Years of Mastery
Imagine tapping into a wealth of insights cultivated over 7 years in the dynamic world of social media. SKMPanel's course equips you with strategies and insights to position yourself as an industry authority, while enabling your clients to achieve social media excellence and contributing to your own financial ascent.
From Startup to Triumph: A Glimpse Inside
Our course isn't just about concepts; it's about building a business that thrives on outcomes. Here's a preview of what's in store:
Business Setup: Navigate the intricacies of business establishment, from legal considerations to crafting a compelling brand identity.
Client Attraction: Master techniques to magnetize clients who are not only eager to learn but also enthusiastic about investing in their social media journey.
Proven Tactics: Unearth our battle-tested strategies for amplifying followers, igniting engagement, and driving audience conversion.
Impactful Delivery: Learn the art of effectively communicating your expertise, establishing client trust, and steering them toward their own social media victories.
Expanding Horizons: As your clients thrive, discover how to amplify your reach, influence, and income by scaling your business operations.
The SKMPanel Pledge
Our course isn't just about knowledge; it's about transformation. Leverage SKMPanel's reputation as an esteemed industry leader, and arm yourself with cutting-edge tools and strategies that yield tangible outcomes in the dynamic realm of social media.
Embark on Your Social Media Empire Journey Today
Are you ready to convert your zeal into a lucrative business empire, while guiding others toward social media triumphs? SKMPanel's course offers you the roadmap to launch your enterprise and steer clients toward impressive digital growth.
Enroll Now and Ignite Your Path to Building a Profitable Social Media Business with SKMPanel's Course!
Disclaimer: Individual results and earnings may vary. SKMPanel does not guarantee specific financial outcomes. Noteworthy: Previous year's sales have exceeded 1 crore.